TIMESBATAM, DENPASAR – Miracle Aesthetic Clinic is turning 24 this year. To celebrate this anniversary, Miracle Aesthetic Clinic keeps its commitment to offer the best service and maintain its existence as one of the most leading beauty industries in Indonesia by creating various innovations in its treatments and services.
The Founder & President Director of Miracle Aesthetic Clinic Group, dr. Lanny Juniarti, Dipl. AAAM, stated that Miracle Aesthetic Clinic has been giving the best service to the customers for 24 years.
"Twenty four years is not a short period of time. We've been always up-to-date with the beauty trends and customer demands. Currently, during this pandemic, we have to keep up with the demand of treatments that can boost the immune system," said Lanny in '24 Miraculous Years' live streaming program on the last Thursday (6/8/2020).
To keep up with this demand, Miracle Aesthetic Clinic offers a new treatment called Premium Immune Booster, which functions as an antioxidant to prevent premature aging and boost immune system. "There are three series of DIY treatments, such as Insta Glow, Insta Acne, and Insta Lift, that offer the solutions for our customers to do facial treatment at home," she added.
A business will not survive if it cannot adapt to the changes. That's why, Miracle Aesthetic Clinic strives to keep up with the changes, especially during this new normal. To adapt with this new normal, Miracle Aesthetic Clinic implements the safety and hygiene protocols for the sake of customer's safety and satisfaction. In addition, Miracle Aesthetic Clinic also offers the new innovation of facial treatment for those who want to have this kind of treatment in a shorter period of time.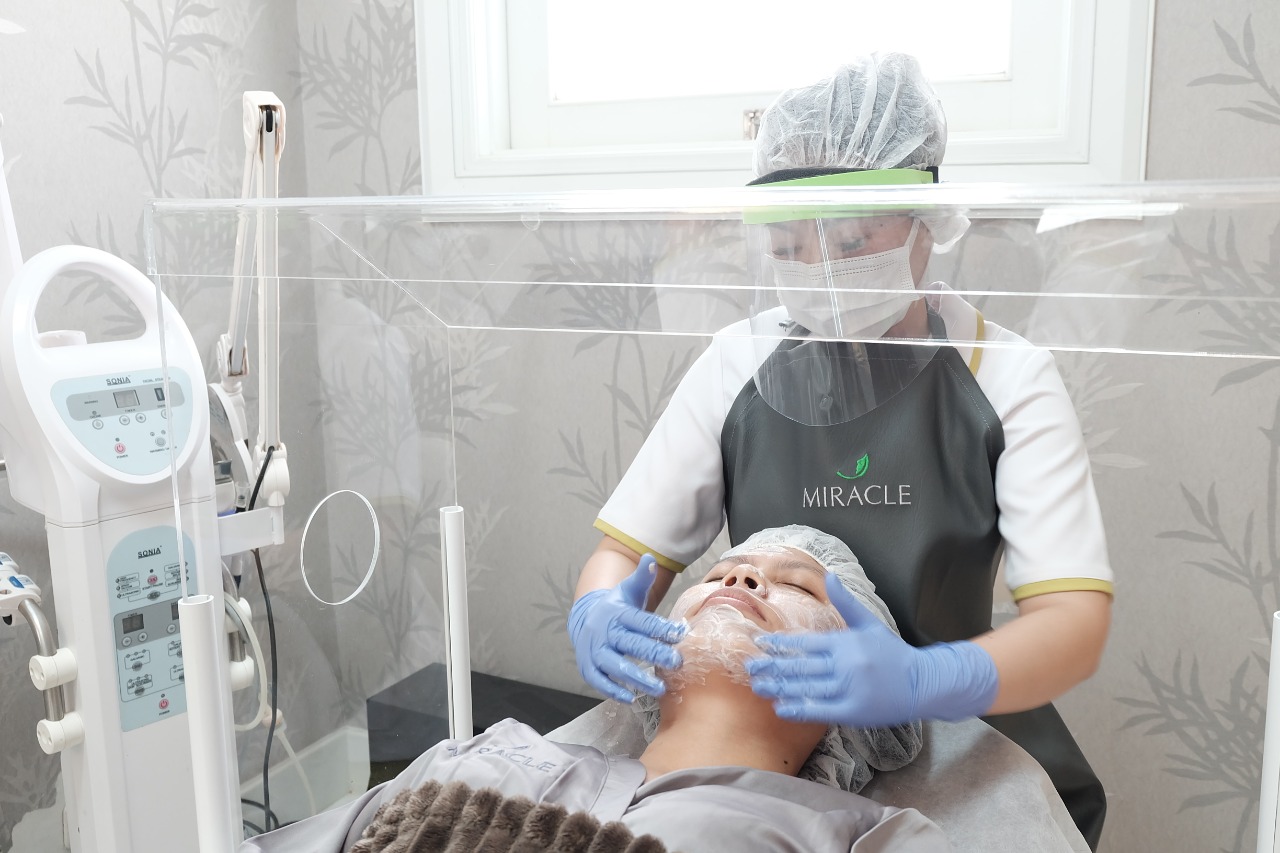 "There are two types of this 1-hour facial treatments. The first one is for acne-prone skin, called as 1 Hour Acne Facial," said Lanny. This facial treatment uses products containing active ingredients that are able to reduce acne inflammation and cure acne, combined with tea tree oil, zinc, and sea mud, to keep natural oils in your skin balanced.
The second facial treatment is 1 Hour Brightening Facial, which functions to brighten your skin in only one hour. This facial treatment uses products containing papain enzyme that can exfoliate the dead skin cells on your skin to make it brighter.
"This product is also combined with acupressure that gives relaxing effect on facial muscles, as well as the brightening mask for the glowing skin," she continued.
In this 24th anniversary, Miracle Aesthetic Clinic also introduces the lower face shaper. This innovation keeps up with the customer's demand of having a V-shaped jawline.
Jawline reshaping requires the right facial reshaping technique to create a proportional face shape.
Therefore, Miracle Aesthetic Clinic applies its Miracle Facial Architecture, the technique to reshape the jawline that can be adjusted to the customer's need. This facial treatment offers 7 Point Shape for women, while 9 Point Shape is made for men.
The Corporate Medical Development of Miracle Aesthetic Clinic, dr. A.D. Elita G, Dipl. AAAM, explained that this facial reshaping is more comprehensive. Just like a building construction, this facial treatment creates a "foundation" around the upper and center area of the cheeks and jawline.
The doctor will also examine each individual face since women and men have a different face structure. To make a more feminine face structure, there are 7 facial points to consider woman's face, while there are 9 facial points on a more masculine man's face.
"By injecting the right amount of filler into those facial points, this treatment will create a more ideal, symmetrical, and proportional face structure. The type of the filler also plays an important role in this treatment," she explained.
To give the best treatment, this technique uses Juvederm Volux with VYCROSS technology that has high elasticity and cohesivity. This type of filler can give a sturdier structure on the jawline. This filler can last for 18 to 24 months.
For a consistent, lasting, and safe result, this 7/9 Point Shape at Miracle Aesthetic Clinic uses holistic method that is done gradually according to the concept of Miracle Facial Architecture. (*)
Baca Berita Peristiwa dan Politik terbaru di Indonesia dan luar negeri lainnya hanya di TIMES Indonesia.